Updated January 2023
I'm a big fan of the idea of capsule wardrobes in theory…
The idea that you can have a closet full of pieces that look great and coordinate with everything else deeply appeals to my nature. The idea of investing in quality pieces that stand the test of time and don't go in and out with fads does, too.
And then there's reality.
In reality, sometimes the things I buy aren't great quality and barely last a season. Or I compromise with something I think will work, and regret it later. Or I buy something aspirationally and realize I rarely wear it because it doesn't really fit into my lifestyle.
Then there's the fact that I tend to get bored with my closet a few months into the season when I've been wearing the same things over and over again…
And the fact that I tend to buy incredible "specialty" pieces that don't really go with my day-to-day lifestyle or my capsule wardrobe… Or the fact that I have a tendency to overbuy sweaters and jackets…
But I still think the idea of having a core capsule wardrobe at the center of your collection is a great way to look and feel put together all the time.
So I thought I'd pull together a list of my key pieces that I consider part of my plus size fall / winter capsule wardrobe. I've had everything on this list at least a year (some pieces longer than that) and they've held up well with regular use.
Obviously, this isn't a full capsule wardrobe, but rather the pieces I've found and invested in that have stood the test of time — and that are still available to buy (at the time of this writing) or have similar versions available.
Tops
Banana Republic Factory V-Neck Forever Sweaters
I have two of these sweaters in black and camel and they are fantastic workhorses. I prefer the V-neck version when available. The cotton makes them perfect layering pieces that you'll wear at least 3 seasons. They don't pill or shrink in the wash, and I love their commitment to more eco-friendly fabrics. Great basics at a pretty affordable price. Up to XXL.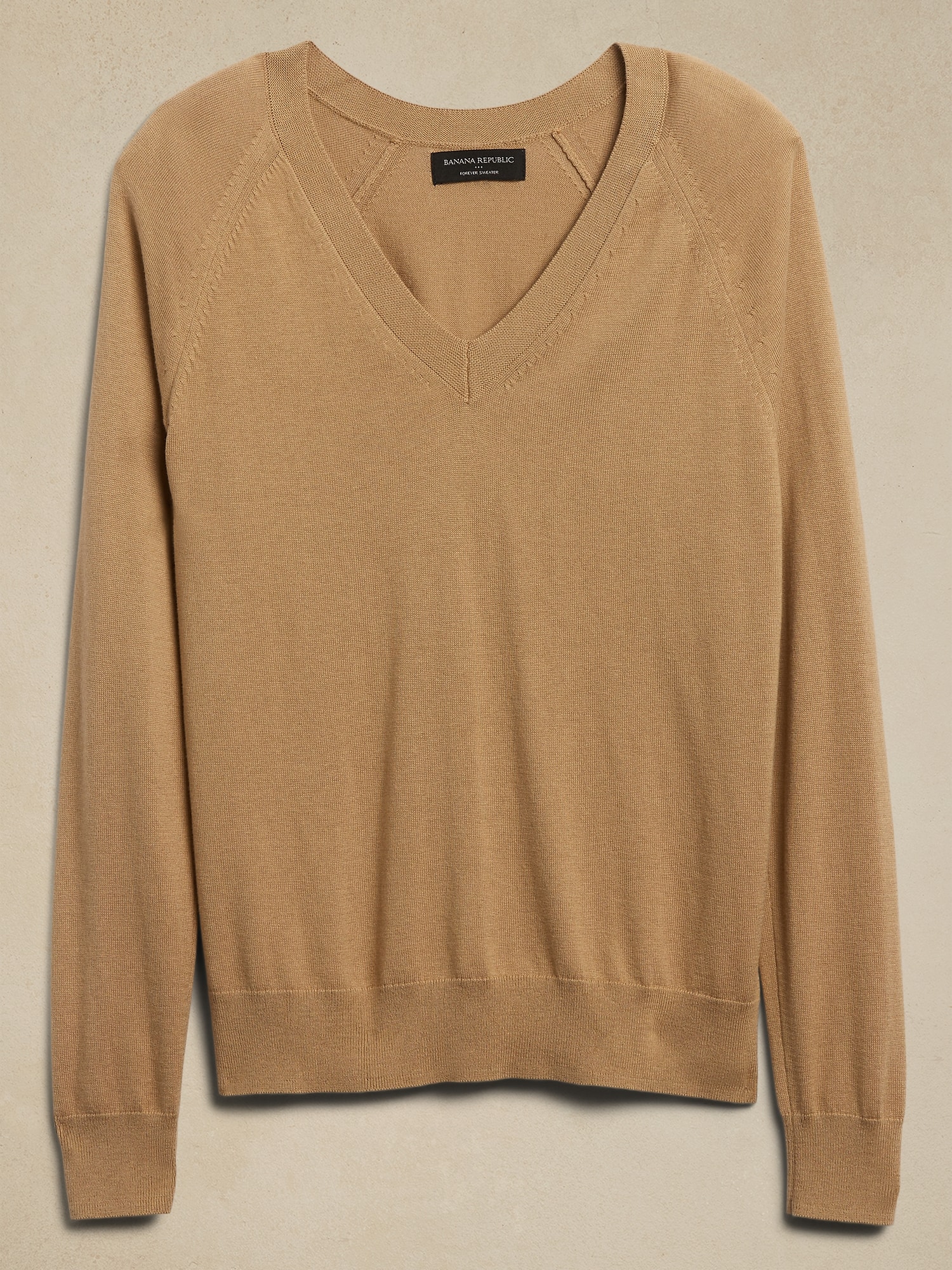 I've had two of these tops now, both in a classic narrow navy/ivory stripe (and the first with fun, gold glitter polka dots!). They last several years; in fact, I'd still be wearing my original except that most of the gold glitter wore off after 3+ years of wear! Sizes with Boden go up to 22.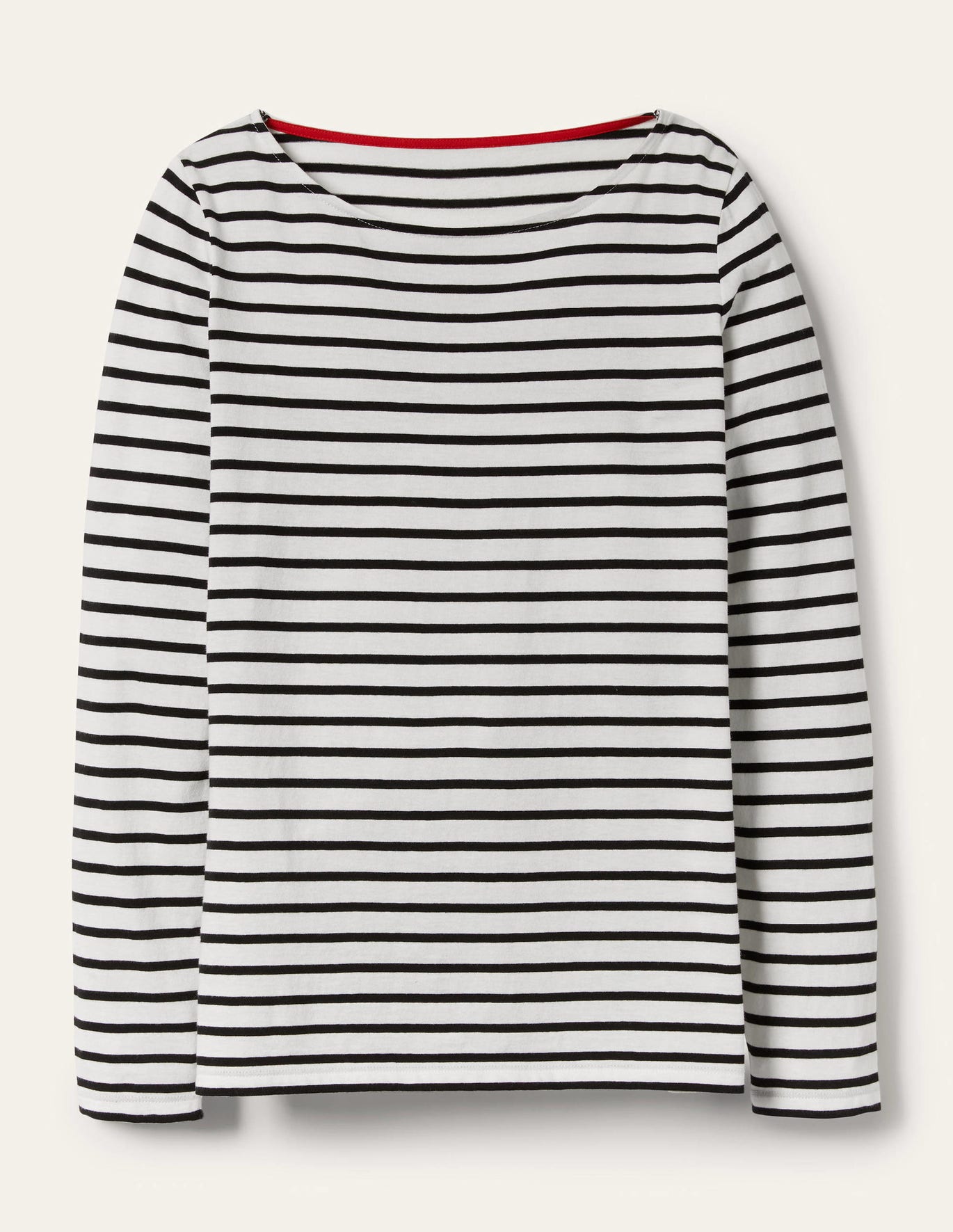 J.Crew Factory Long Sleeve Artist Tees
I have these in several colors, and I like the boatneck shape for my body type. While these are good quality for the price, I find I need to replace my light-colored (white) tees after about a year of wear — but at this price (especially when you can get them on sale for around $15) they are a good buy. These are fitted, so size up for a looser fit. Up to 3X.
Pants
Universal Standard Seine Skinny Jeans in indigo. Check out my full review here.
Outerwear
Universal Standard Derjon Trench Coat. I was devastated to have to finally part with a Zara trench coat I bough years ago, but the Derjon has replaced it nicely. I wish it had a true tie belt, but I could add my own without much hassle. Perfect layering piece.
Shoes
Miz Mooz Louise Boots in brandy. I love these leather boots for their slightly retro look. Super comfortable and they've held up well over the last year.
Lucky flat ankle booties (similar). I'm on year 3+ with my black leather Lucky booties. I've taken them to the cobbler once to be professionally polished and they still look great.
Rothy's Leopard print round-toe flat (similar)
Read my review of my Rothys after a year of hard wear, here.
My Capsule Wardrobe philosophy
My capsule wardrobe philosophy is to have a core wardrobe of classic pieces that won't go out of style and that I can mix and match in a bunch of ways.
Obviously, the above links are not the only things in my closet. But they are the pieces that have stood the test of time and are still available to buy.
Some other pieces in my closet include:
Sweaters in trendy, seasonal colors and shapes
short-sleeved graphic tees
cardigans for layering
Tennis shoes and snow boots
A heavy, wool winter coat
A faux leather moto jacket
And so on.
Unfortunately, a lot of these pieces are already sold out, of I haven't had them long enough to be able to say if they'll really last. And some pieces don't last beyond a single season or year.
I also like to spice things up by buying seasonal pieces in trendy colors or styles. For example, this winter I have a creme balloon-sleeve sweater with pearl buttons. The silhouette is very a la mode this season — but may be out of style next winter, so I got an inexpensive version from Nordstrom Rack. Last spring, I bought a gorgeous pair of kelly green slacks at Eloqui, and I'm looking forward to bringing them out again this spring.
In the past, I've used the capsule wardrobe guides from Classy Yet Trendy to build my core capsule wardrobe, and I like her French Minimalist seasonal guides. However, many of her shopping links don't include plus sizes, so I found myself having to source my own pieces and getting frustrated when I can't find an equivalent to the pieces she suggests.
This year, I'm considering trying the guides from Outfit Formulas. They seem to have similar guides, and they feature plus-size women in their branding, which gives me hope for more inclusive shopping links.
If you choose to purchase a capsule wardrobe guide, my advice is to shop early! Buy the guide as soon as it comes for the season if you intend to use their shopping links — because pieces quickly sell out or become unavailable as seasons change.
That's why I plan to keep this running list of basics I've found that last and are readily available, so check back here if you need to fill in a gap from one of these capsule wardrobe guides.